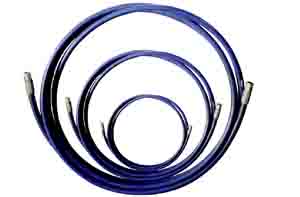 Superhigh pressure testing pipeline is special line for high-pressure and superhigh test devices.The product is partially made of nanometer material,resistant to high pressure and impact .The pipeline is tough and firm in construction, free of deformation under high pressure,and of long service life.
Construction:
The inner core of the pipeline consists mainly of nanometer elastomer. The center of the pipeline is steel wire armored reinforcing layer and
bond line in nanometer elastomer.
The outer layer of the pipeline is the outer protective coat made mainly from nanometer elastomer and carbon fiber.
The pipeline allows a pressure up to 150 MPa and is 50m in length.
Product specification and basic parameters for superhigh pressure testing pipeline
Nominal
inner dia.
mm

working pressure

MPa

Test pressure

MPa

Reference
outer dia.
mm

Weight
Kg/m

Min.bending
radius

mm

Connecting
thread

6

70

105

120

150

105

153

180

225

14.6~21.4

0.6~1.6

200~210

M20×1.5

8

70

105

120

150

105

153

180

225

16.6~23.4

0.7~1.7

200~220

M22×1.5

10

70

105

120

140

105

153

180

210

18.6~25.4

0.9~2.0

230~250

M27×2

13

70

105

120

140

105

153

180

210

21.6~28.4

1.0~2.4

260~300

M30×2